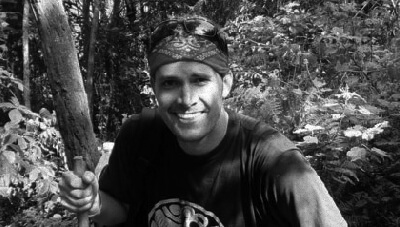 2017, Silver – Design
Hill Country Ride for AIDS
American Advertising Awards – District
2017, Silver – Design
Hill Country Ride for AIDS
American Advertising Awards – Austin
2016, Bronze – Integrated Campaign
Own It – ADDY Awards Show
American Advertising Awards – Austin
2010, Outstanding Achievement
Friend a Gorilla Website
Interactive Media Awards – International
Tom Slater

is an Idea Explorer, Image Creator, and Word Wrangler.
"He works hard to solve big problems by corralling tiny pixels and arranging unruly words until they behave well in any form."
Tom brings a breadth of knowledge and agency experience from working alongside a top global advertising firm abroad to developing imaginative resourcefulness from within a dynamic Austin creative shop — creating highly successful campaigns with at times nothing more than some twine, a stick of gum and a really great idea.
He has successfully led creative teams through the jungle of client revisions and technical challenges while keeping the creative brief, top-of-mind. Tom works well with budgets, time restraints, and resources, by pairing the right creative people to work on projects — while supplying the direction for ideas to thrive.
Tom is no diva, as he believes there is no "I" in a team and knows the value of what others bring to a concept. He understands that great ideas can come from anywhere within an agency or creative team.
Although, he too believes that there's no Team without "T" (Tom) because his witty sense of humor, great attitude, and creative approach to direction bring a little something extra that might've otherwise gone missing. ;)
Tom is one of those guys that brings an incredible amount of energy, enthusiasm, creative ability and eagerness to every single project he's involved in. Whether it's taking charge or going with the flow – he doesn't skip a beat. He's a great art director/designer that understands what it means to tell a story in any medium – print, TV, radio, interactive, or event marketing. Tom is very conscious of budgets and timelines and works hard to keep thinks on track. As an employee I would highly recommend Tom and I and look forward to the next opportunity to work with him.

Deborah Magnuson

Principal, Marketing Matters
It's not just his brilliant smile, it's the attitude that goes with it. Tom is all-in, committing his outstanding skills as art director, designer, illustrator, and copywriter. I've worked with Tom on commercial shoots as well as the pro-bono Hill Country Ride for AIDS campaign, where he refined the concept and copy—repeatedly—till he brought the client on-board. He then designed and illustrated a beautiful and effective campaign, from print collateral and web design to email templates and event signage. The man is a work horse. The results show.

Scott Van Osdol

Van Osdol Photography
Tom and the 2015 ADDY Awards production team did a fantastic job with this year's ADDY's. It's quite an undertaking. The Production Director has to wear so many hats. It starts with a theme and there is no doubt that the creative and design elements are crucial to a successful ADDY's. But it takes much more than that to really produce an excellent show. A successful Director has to combine creative vision with 'people skills' and an eye toward the analytics of the process. Tom very successfully performed that delicate balancing act. In a word, 'Kudos'.


Cynthia McGuineas

Former President, Austin Advertising Federation
After countless projects together, Tom has always come to the collaborative table with boundless inspiration, fearlessness, and a sense of duty. Whether leader or partner, he pairs an infectious enthusiasm with a rare and innate ability to consistently offer thoughtful solutions and productive feedback. Beelines through murky details and politics, to get to the meat. Whatever it takes: Flashes of ingenuity. All-nighters. A job's never done until the message is delicately crafted and elevated, to its fullest potential. If you want devotion personified, Tom Slater's your ally.

Jammes Luckett

Writer / Creative Director
Tom is creative, precise and a high integrity Art Director. Working with him, while developing materials for the Friend A Gorilla campaign, was a great experience. I watched his ideas evolve and develop until it became the focus of Uganda. Because of his efforts, Friend A Gorillas attracted the interest of international organizations and Hollywood celebrities — for both the gorillas and Uganda. Tom has the energy and power to turn any idea into a success.

Tareq Abdella

Campaign Advisor, Uganda Wildlife Authority